North Manchester Deanery
"Church Pages have helped us to set up our new North Manchester Deanery Website. They have been there to help all the way through the process and made things very easy for us. The training videos were very helpful, as was the training session with Heather. We would definitely recommend Church Pages to any church hoping to set up a website."
Steph Allen - Senior Administrator
North Manchester Deanery is a worshipping community of 14 different Anglican churches across North Manchester. Describing themselves as ordinary folk with all the quirks and foibles you'd expect the Deanery began the process of working with us to create their website earlier this year.
As Church Pages has the ability to add in a directory of churches, with different filters e.g. times of services then we were a perfect fit for the Deanery.
How the website was designed and built
North Manchester chose our most popular template, Boaz, for their website. With such a heavy workload the Deanery found it difficult to set aside time to spearhead the project, but Rev Eddie Roberts took the helm and soon we had images and copy to create the website.
The new Deanery website is clean and reflects the culture of the area. We were particularly pleased that we were able to design a website that:
Gives details of where all the churches in the Deanery are located.
Provides a searchable filter for the churches so that the community can see what church in their are offers what.
Is simple to up date, and expand as required.
Provides the opportunity for people to sign up to Alpha, or contact a church about a life event e.g. baptism or wedding - please see an example of their form below.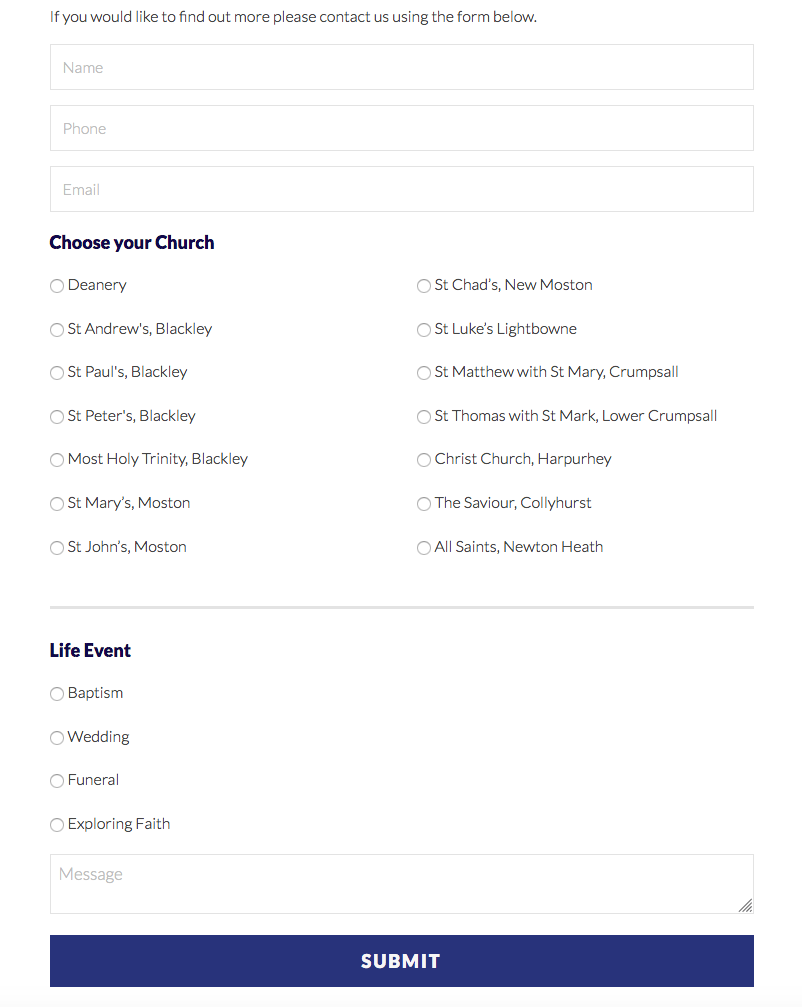 What else did Church Pages do?
We made sure that the website worked on all devices and that it had a Secure Certificate installed on it. We also added in optimisation tags for the site to help the pages be found on search engines.
How did the website go live?
The domain for the website had been recently purchased and so we were able to log into the domain on behalf of North Manchester Deanery and adjust the settings so that the site could be found. We also installed a Secure Certificate on the site at the time the website was launched.
Conclusion
North Manchester Deanery has a number of churches in its area. The website now provides the Deanery with the opportunity to increase the information that it provides about each church, and the Deanery, and enables the community to find out what's going on.
We are so pleased that we were able to help the Deanery to provide a website that meets their needs. To view their website please click here.