---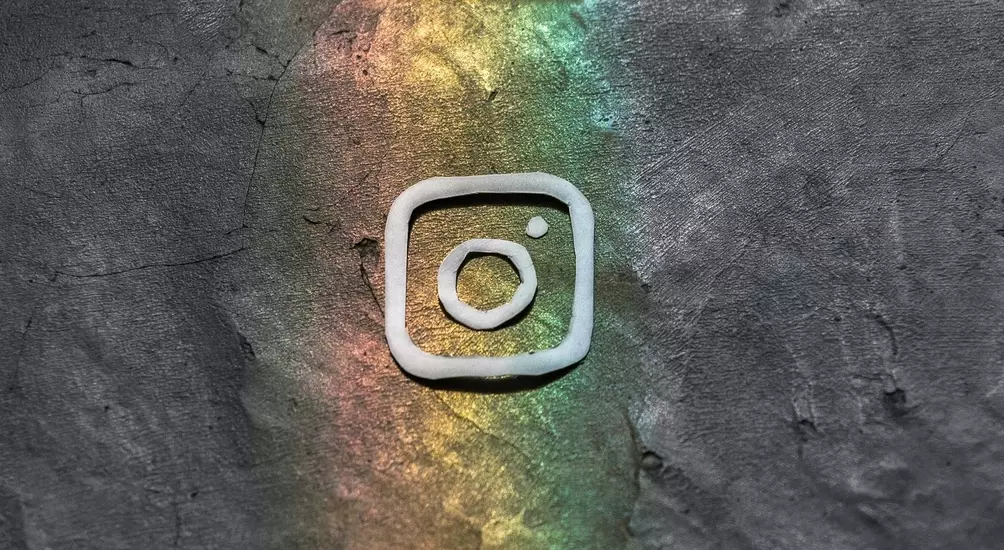 8 Ways Instagram Stories Can Be Used By Churches To Reach Their Community
You may be surprised to learn, but Instagram is the fifth most popular social network in the world. And with over 26.54 million Instagram users in the UK then there is the ideal opportunity for churches to reach those unfamiliar with church and Christianity. Something that has become increasingly popular as a means of engagement are Instagram Stories.
What are Instagram Stories?
Instagram Stories lets Instagram accounts post photos and videos that vanish after 24 hours. About half of Instagram's monthly users are using Stories which is 500 million people posting 1 billion Stories every day. And about 62% of those people say they've become more interested in the person or organisation posting the story after seeing it.
Creating content for Instagram Stories enables you to post real-time updates throughout the day, giving your community behind the scenes access, and with additional features like question stickers and polls, generating conversation. It has become a place where it's possible to build a stronger connection with your community.
The live nature of Instagram Stories means that you don't need to create the most artistically curated story, but instead can tell a story that is authentic and in the moment. This gives the opportunity to better communicate the heart of your church with the wide ranging reach of Instagram. Another particular benefit of using stories is that you can get people to message you privately and interact with you, which provides a great opportunity to engage with people.
It's possible to keep your story visible after 24 hours by posting it to your 'highlights' and these remain visible all the time at the top of your Instagram profile page. By saving a story to a highlight, it keeps that story indefinitely on your profile. When someone views your profile, they can browse through your highlights to find out more about your church community. The highlights for two churches Kings Church Iver and St John's Crawley have been marked with an arrow on the screen grabs below. When thinking about what you might like to include in your highlights, it can be good to consider what someone who is new to your church would like to find out about you. What would they find interesting or useful to know about your church community? What may inspire them to come along? It's likely they might like to know what your Sunday services look like and what other events you may have going on such as weddings and baptisms or away days, youth trips or alpha.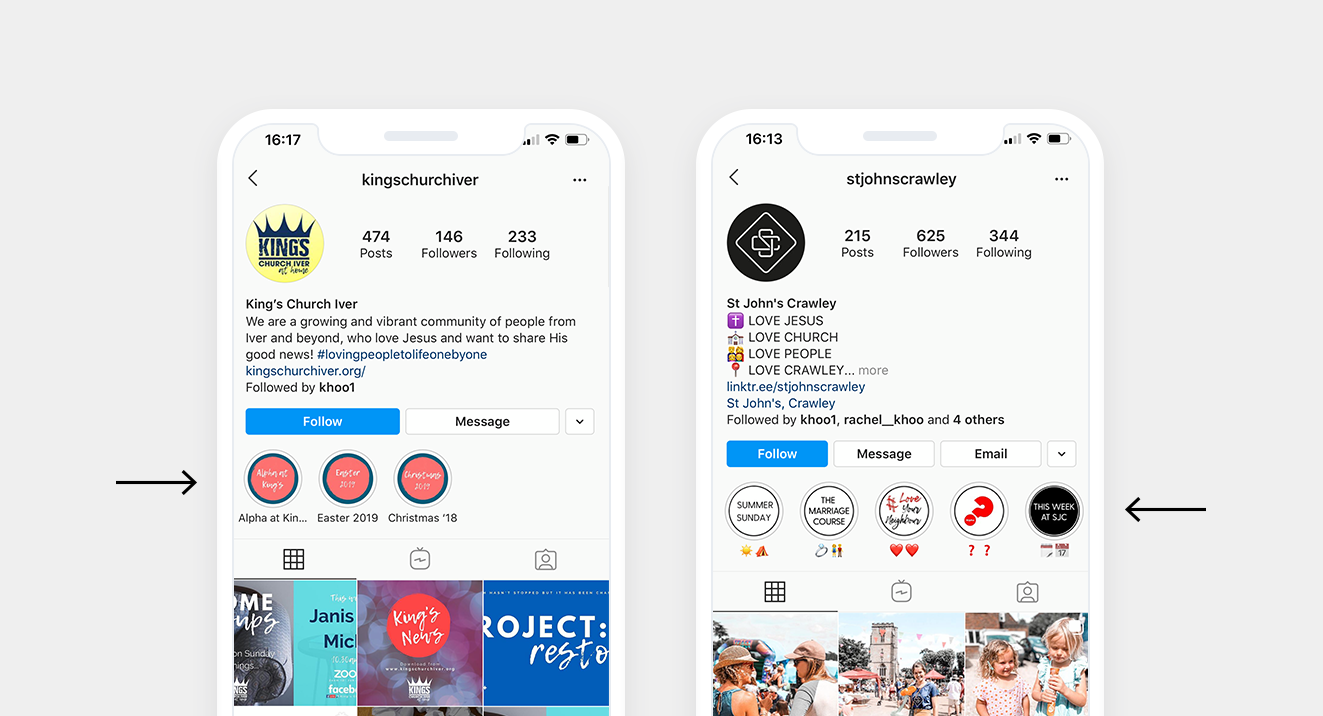 There are good guides on how to use Instagram Stories and how to use the various functions such as stickers, polls and coundown timers and if you're not already familiar with creating stories then the Church of England has created a great guide here.
Once you're up and running, we've outlined 8 creative ideas on how to use Instagram Stories for your church.
How to use Instagram Stories for your Church
1. Video Teaser Of An Upcoming Event or Your Upcoming Sunday Service
You can increase anticipation and participation with a sneak peek of upcoming events or services, and invite people to join you. You can use the countdown timer which automatically counts down to when the event is happening.
2. Recap Of The Weekend Services
Similar to a video teaser, but you can show what happened over the weekend services and activities in a 60 second video. This can inspire people to visit future events. Some people don't attend due to fear of the unknown, and seeing what happens in the informal and authentic format which Stories provides can make attendance less intimidating.
3. Highlight A Volunteer Of The Week
Share how great one of your volunteers is by highlighting them through an Instagram Story. Show your community how thankful you are for your volunteers and how they make a difference in the life of your church.
4. Show Your Church In The Community
Is your staff out in the community this week? Post an Instagram Story of your church serving the community. This is a great way to show non church members how your church loves serving its community. The group of HTB churches' #LoveYourNeighbour scheme (run through lockdown) has seen many encouraging stories being shared over various social networks. This has given an insight into how amazing it is when the Church, inspired by God's Word, works together to be a force for good and positive action in the community.
5. Behind-The-Scenes Video
Is the choir or worship team practicing for Sunday's service? Show a behind-the-scenes video. People love feeling like they got a preview or a behind-the-scenes look at what goes on at the church each week.
6. Introduce The Team
If you have multiple full-time church staff members, use Instagram Stories to highlight your church staff members and share fun facts about them. This will help your church community feel like they are getting to know your church staff better, especially if you have a large church staff. It's also a great way to introduce a new church staff member, and gives those outside of the church thinking of coming along an idea of who people are.
7. Share Information About Your Church's History
Share your church's history with your community. They might not know the story behind parts of your church building, or the history that brought the church to where it is today. Instagram Stories are a great way to share the rich heritage of your church.
8. Create a Values Story Highlight
Make a story for each of your values and then save it as a highlight. YWAM Holmsted Manor does a great example of this on their Story Highlights on their Instagram profile page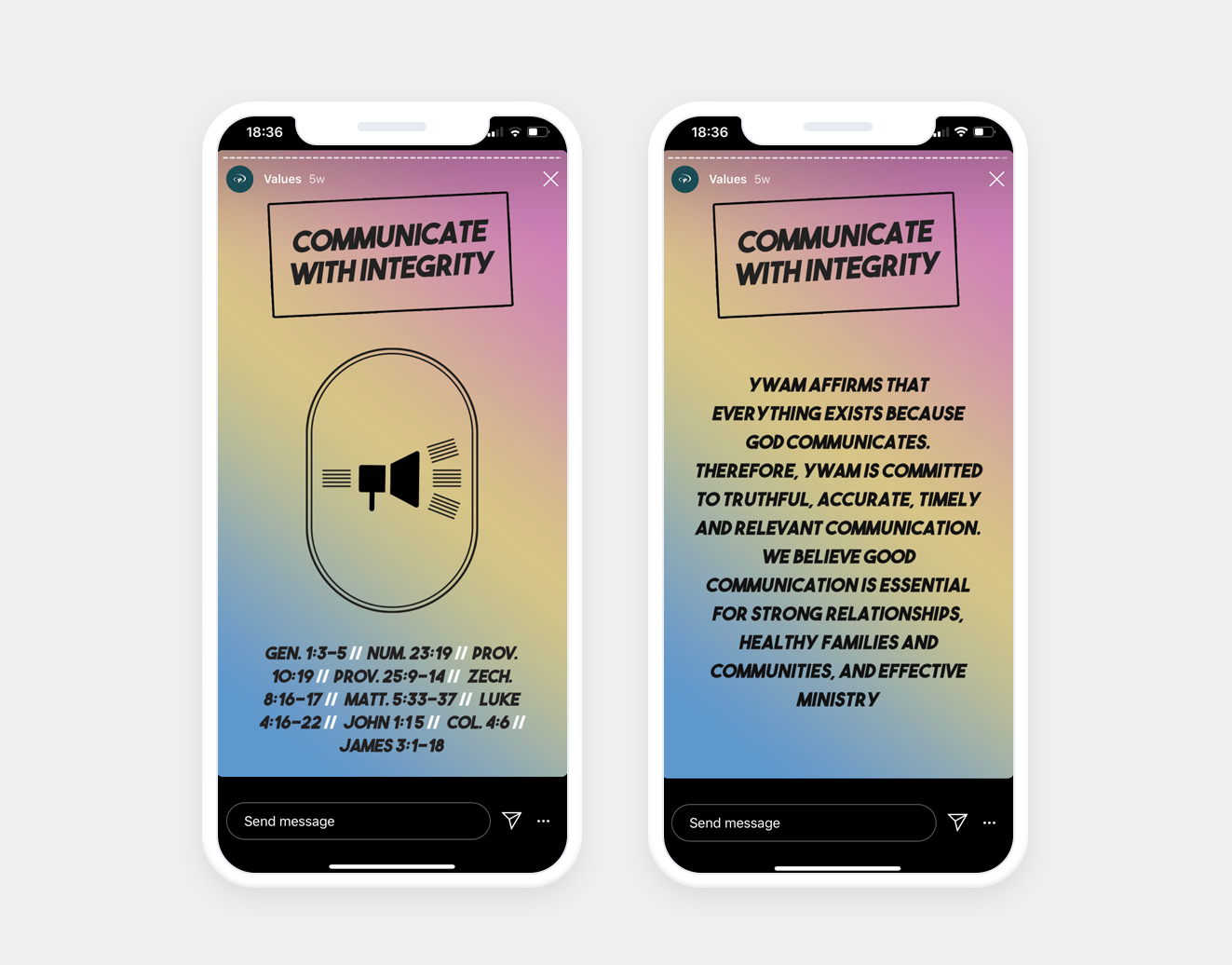 ---
Conclusion
At Church Pages we do understand that the idea of creating Instagram Stories for your church can be daunting. However, with so many of your community using Instagram it is the ideal platform to engage on - in many respects it is today's "market place". So if you would like to include your instagram feed on your Church Pages' website, or if you have any other enquiries then please do get in touch.
References
Statista - https://www.statista.com/statistics/1018012/instagram-users-united-kingdom/
---
---