---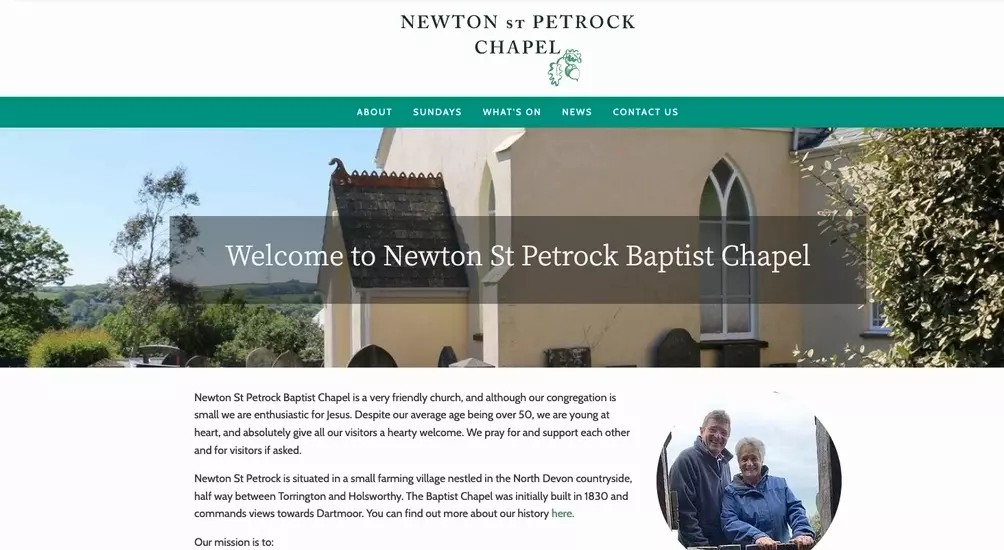 Newton St Petrock Baptist Church Launch New Website
Newton St Petrock Baptist Church contacted Church Pages during the first lockdown as the church did not have a website. With a new minister in post, they wanted to have a responsive church website to welcome visitors to their Chapel.
Newton St Petrock is situated in a small farming village nestled in the North Devon countryside, half way between Torrington and Holsworthy. The Baptist Chapel was initially built in 1830, and even though the church has a small congregation, it is very outward looking, and all visitors are welcomed.
How did we help?
We worked closely with Martin Matthews, who was heading up the creation of the new website at Newton St Petrock Baptist Chapel, to ensure that we created the website that the church wanted. Chatting with him, and using the information that he sent through, we designed and built a website based on our Hebron template. It was quite a long process, as we were starting from scratch, but Martin provided us with a strong logo, which incorporated Newton St Petrock's famous ancient oak into its design, and gave us an idea of colours and fonts. Although the church is small, it wanted to be able to reach out to its community, and provide a warm welcome to the area that it serves, so saw having a responsive website as being essential to this aim.
Going Forward
It is essential at Church Pages that the websites we design and build can be edited by every day folk, who possibly have no IT knowledge. Church Pages uses its own simple content management system, and we have people ranging from 14 to 78 keeping their church's websites up to date. We also provide training for our clients, and so Martin and his admin team will be receiving a session shortly so that they can edit the site, and learn how to add in additional pages, blog posts, images, pdfs, newsletters etc. themselves.
That is the beauty of Church Pages. We create presets for folders and pages so that the appropriate layout can be chosen. You can also duplicate folders (with all their content), or pages, which can then be edited. So if Newton St Petrock Baptist Chapel want to add in live services, or upload sermons, that will be possible.
Church Pages' Vision
At Church Pages we are passionate about local church and believe that the church is the best way for communities to encounter Jesus and experience His love and salvation. We are always here to support our church clients to help them use their website to reach out to those in their area. This is our heart for Newton St Petrock's website, that the Lord would use it to help people come to know the Lord and that lives might be transformed.
---
---