---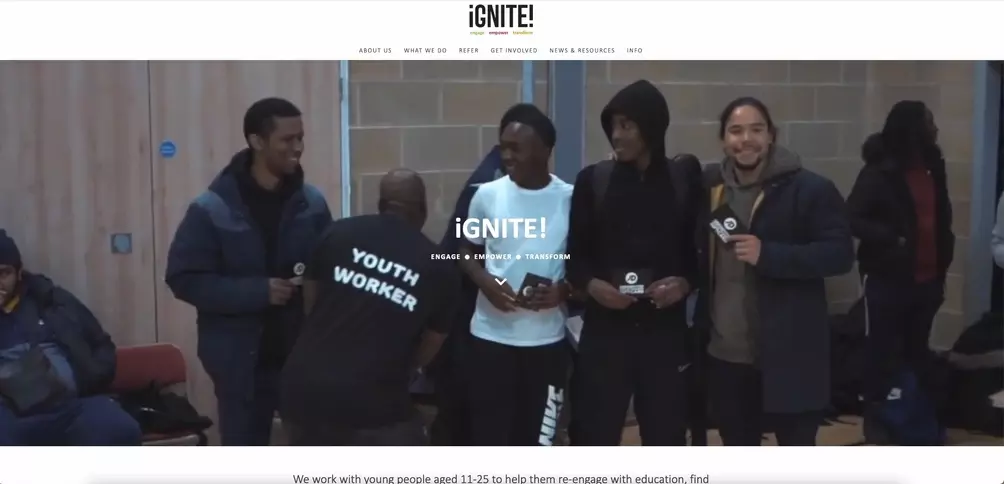 Ignite Youth Launch Fresh Look Website
Ignite Youth (formerly Ignite Trust) has been a charity that we have supported at Church Pages since we launched. It was one of the first websites that we designed, and we have been actively involved with supporting them in their amazing work ever since.
Who are Ignite Youth?
Ignite Youth work with young people aged 11-25 to help them re-engage with education, find employment or move away from anti-social behaviour, gang involvement and exploitative relationships. Based in the London Borough of Harrow, the charity was founded in 2001 to 'train the next generation' so that marginalised young people left school with some qualifications and experience in leadership.
With the rebranding of Ignite Trust to Ignite Youth the charity wanted a new look to their website that not only included video, but worked well on a mobile. With 98% of 16 to 25 year-olds having access to mobiles (statista.com), it was imperative that the site was designed 'mobile first'. This means that we designed a responsive website which would work well on all screen sizes and devices but where we took into account that the majority of site users would be viewing the site on a mobile device as opposed to laptops or desktop machines. We were fortunate to be led with branding colours and a new logo, which helped with the overall look and feel of the website.
What did Church Pages do?
We worked closely with Ignite to create a new and engaging website for them. Their existing site was maintained and when they were happy to go live we made the switch.
It was very important that video was the first thing that the visitor engaged with when they arrived on the site. The video itself is definitely worth a watch as it gives a great insight into the work of Ignite. We also wanted to create bold blocks with calls to action that a young person could click on to access information.
We worked closely with Donna John (Director) and her team to provide the look and feel that reflected Ignite's brand. We created folders, pages, and presets, and then provided training on how to use the software so that the charity could maintain the site themselves. Ignite then set to work creating folders, pages, blogs, stories, and contact forms, but we were on hand every step of the way to give help and advice as necessary.
When it was time to switch the sites we helped Donna make the necessary changes within her domain management panel. This is not always an easy thing to do, but we were pleased to help to get the site live.
Conclusion
We received positive feedback from the Ignite Youth team, and the Chair of Trustees thought that the site looked "absolutely fabulous". Donna commented:
"Thank you so much for all your help and support with this project, it has been a real blessing to Ignite".
If you would like to read some of the stories of how Ignite has been a blessing take a look at the stories here.
---
---